No data sharing, no cookie stored, no consent banner, and no tracking across devices.  Plausible analytics can replace Google Analytics and track...
Real-time page views with entry, exit and custom properties.
Device, browser, OS, screen size, country, region & city.
Outgoing links, downloads, video and audio elements.
Event goals with tracking of buttons, forms, etc
Campaign tracking with UTM-tags such as &utm_campaign=summersale  
e-commerce tracking of revenue, product, SKU, coupons etc with out-of-the-box Shopify & WooCommerce support.
Funnel tracking and analysis using page views and custom events.
The General Data Protection Regulation GDPR requires a site owner to ask for and obtain explicit consent from EU residents before processing of PII Personally Identifiable Information - data that can identify an individual, either directly or indirectly. The responsibility for GDPR compliance sits with the site owner.
An overview of Plausible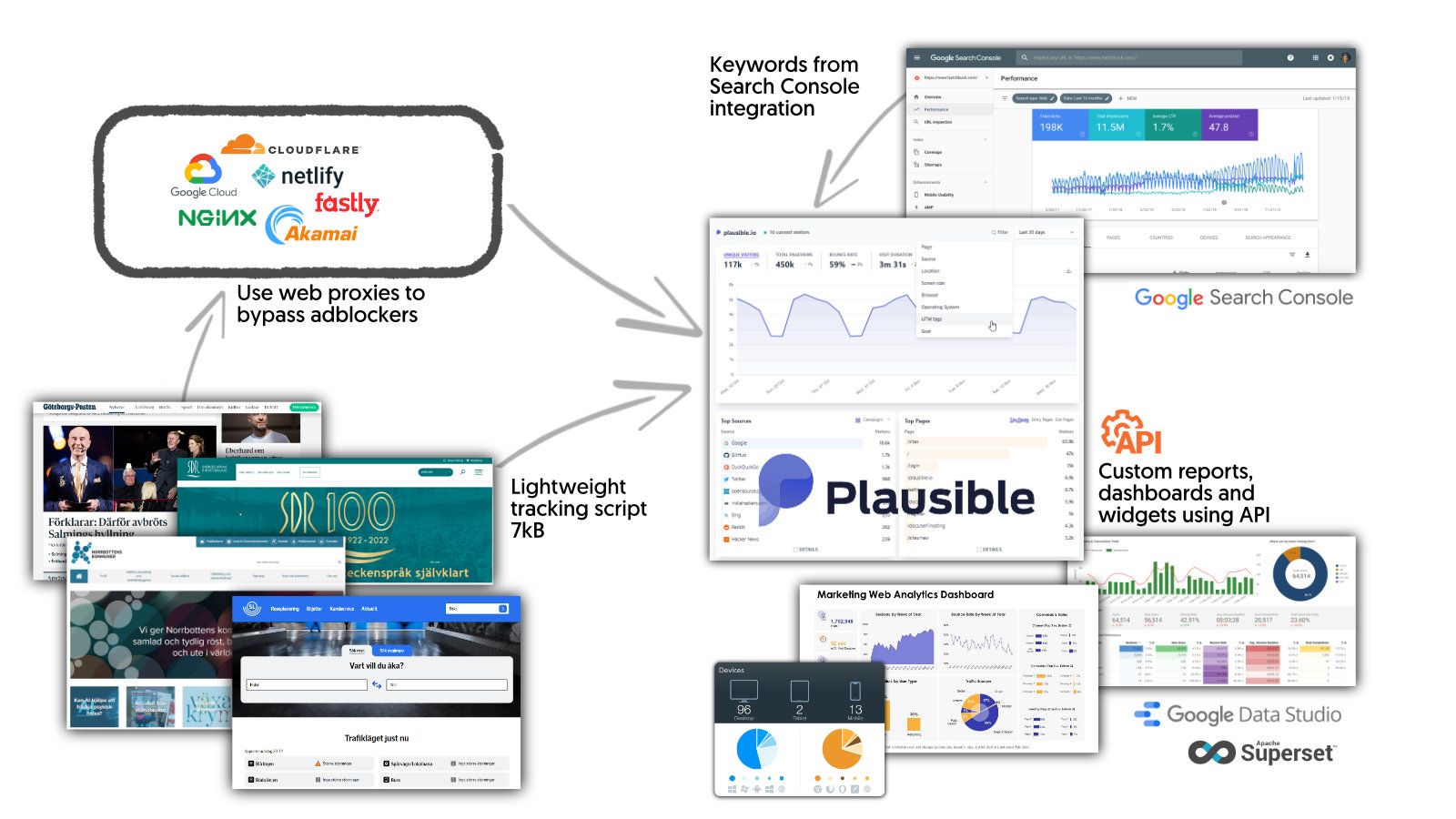 Using a proxy such as Cloudflare, Fastly or nginx  the Plausible tracking script and API becomes part of regular site content and creates a "1st party connection". This bypasses ad-blockers and provides high confidence data.
Metrics
A unique Plausible visitor is identified by IP-address, user agent and domain for 24 hours. "The raw data IP address and User-Agent are never stored in our logs, databases or anywhere on disk at all."  
Visit Duration is calculated from users visiting more than one page.  A SPA, Single Page Application or site, has to send Custom events for duration and activities on the page.
Bounce rate - visitors viewing one page and then leaving. For a SPA Single Page Application we need to send Custom Events for this metric to be meaningful.  
Session - after 30 minutes of inactivity a returning visitor, during the 24 hour 'unique visitor' window, will be logged as a new session.
Plausible developers writes: "The biggest limitation with this approach is that we cannot do good retention analysis with Plausible. We cannot show stats like New vs Returning visitors because they rely on having a persistent user identifier."
No more cookies or tracking pixels
Google's Chrome browser will block 3rd party cookies from 2024 – that's 65% of all web browsers. Apple's Safari, already blocking 3rd party cookies, has 19% market share. Add Firefox 3% and Microsoft Edge 11% and 98% of all web browsers will kill 3rd party cookies in a near future.
75% of iOS users opt-out of app tracking after iOS 14.5 update.
Privacy-by-design web analytics with speed
Plausible is a open-source privacy-by-design web analytics platform. All data is aggregate which means no PII, Personally Identifiable Information such as device-ID is stored or processed.
Fast loading - better Page speed
Without cookies and fully GDPR compliant we can skip the cookie-banner for a better user experience. The first impression is critical for user experience and bounce-rate.  The Plausible tracking script is less than 7k with all features enabled, Google's gtag.js tracking script is 134k - page speed matters for organic SEO ranking.
Open source performance
Plausible uses open-source technologies; Docker, postgres, clickhouse, Tailwind CSS and React.  Source code is available on GitHub.  
If you're a web developer Alex MacArthur wrote a blog post on why he transitioned from Google Analytics 4 to Plausible, he mentions simplicity, performance, SPA Single Page Application tracking, and privacy considerations.
builtwith.com is tracking usage of Plausible globally and they're doing well.
Integration and visualisation
We can access tracking data over API and integrate with data visualization tools such as Google Data Studio and Apache Superset for dashboards and analysis.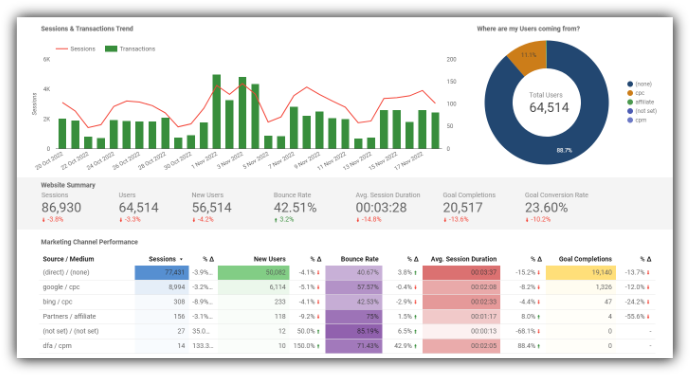 Visitors, session time, device, GeoIP, bounce, entry & exit, goals and conversions, link tracking, UTM tags for social media, campaigns & newsletters. Search keywords are retrieved using the Google Search Console API. And Plausible plays really nice with your mobile....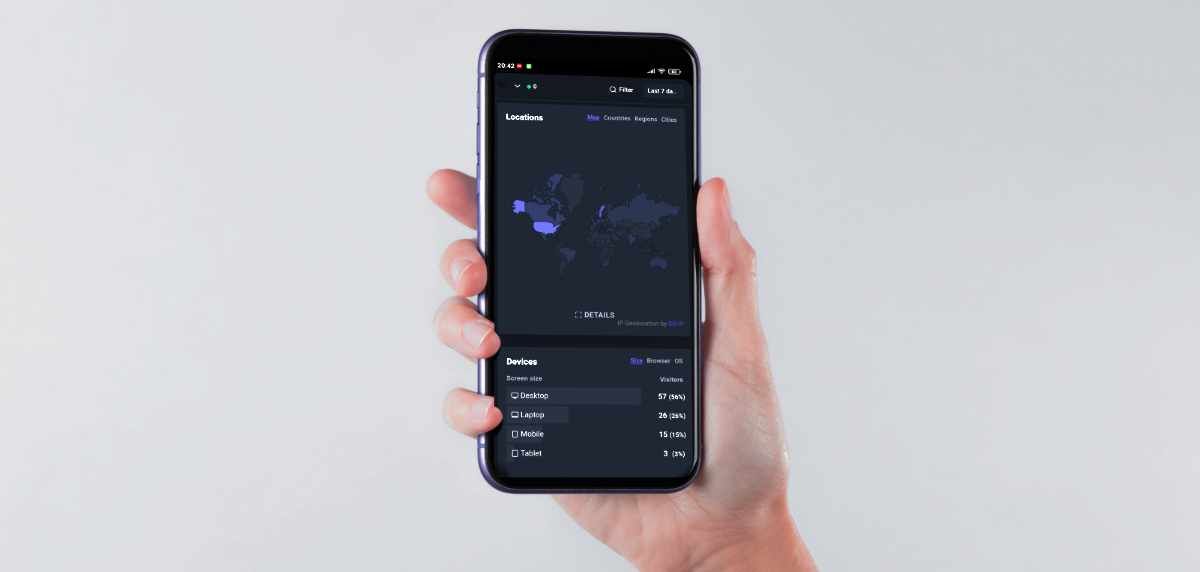 Funnels
Funnels in Plausible are brand new in version 2.0. A funnel is created by chaining Page views and custom events.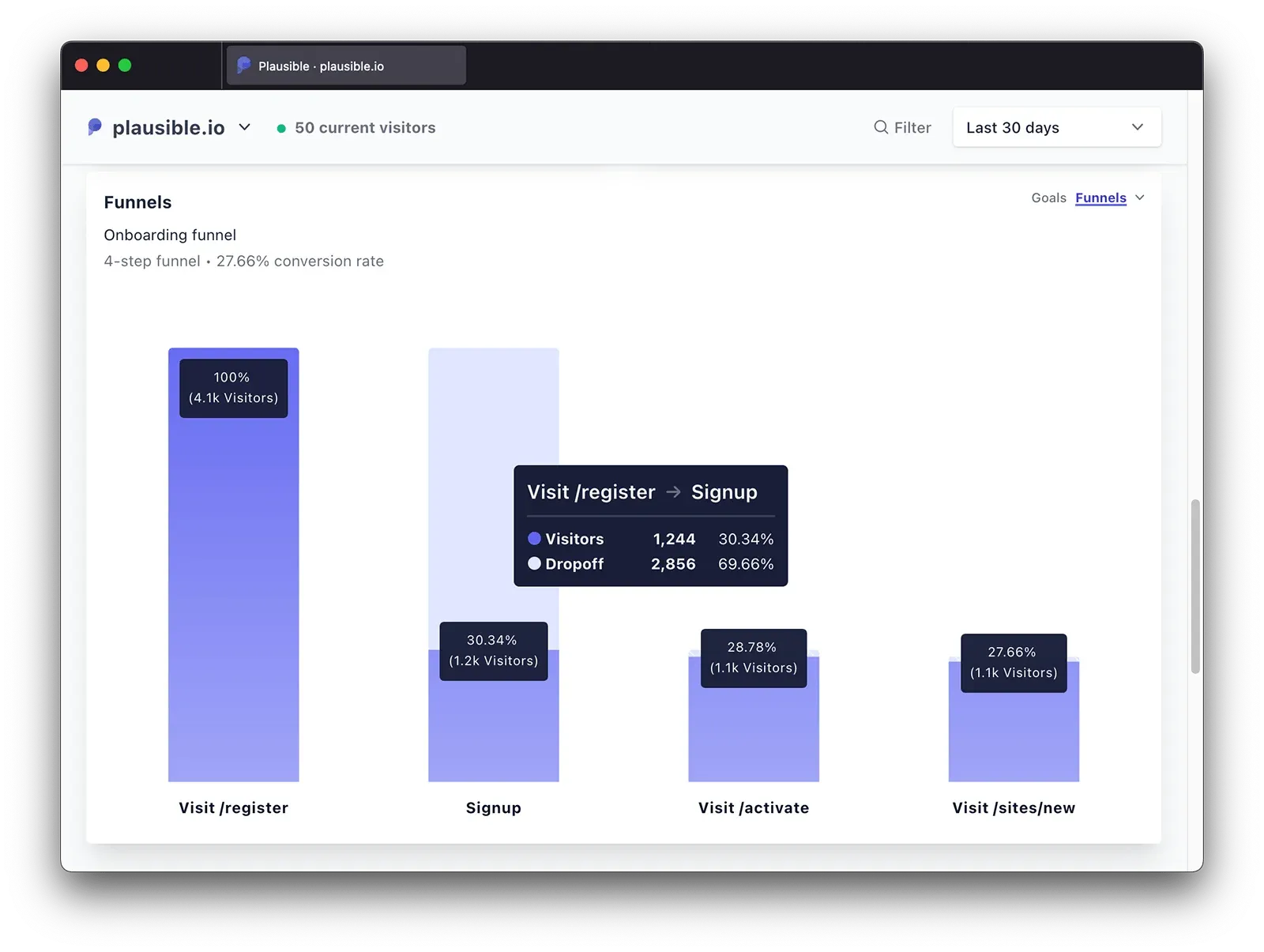 Personally Identifiable Information
By design Plausible can not track PII Personally Identifiable Information.  This is different from platforms such as Matomo which has anonymization as option. Fathom is an alternative - they are closed-source and you can not self-host the platform. Sealmetrics tracks the incoming source by adding a URL-parameter - a parameter the latest version of Firefox is now stripping.
Google Analytics 4 is not GDPR-compliant, even with IP-anonymization and Consent Mode. France, Italy, Sweden, Denmark, Finland and Norway have ruled Google Analytics as non-compliant.
Google Analytics is illegal because the CLOUD Act allows US authorities to demand personal data from Google, Facebook, Amazon and other US providers, even when they're operating (or hosting that data) in another jurisdiction such as the EU.
Cookiebot, auditing sites for GDPR compliance, wrote a report in 2019 documenting the use of Ad Tech Surveillance on the Public Sector Web (PDF) and found that 52% of landing pages on national health services in EU contain 3rd party ad tracking.
Need some help?
I'd be happy to help you set up analytics on your website, create your own cloud-based analytics server with 100% data ownership, integrate Search console, set up proxies and on-board with training over Zoom or Google Meet.
Welcome to contact me on this spam-protected email: magnus-75gh5534@helander.stream with any questions.
---
Cover Photo by Liza Summer