Google Analytics is total overkill for most website owners, and data is processed outside of the European Union. Austria, France, Denmark and Italy has ruled GA violates GDPR - more countries will follow.
GDPR requires a site owner to ask for and obtain the explicit consent from EU residents before any processing of personal data. Personal data is any kind of data that can identify an individual – either directly or indirectly.
Plausible in comparison is an open-source privacy-by-design web analytics platform. All data is aggregate, no PII Personally Identifiable Information, no data sharing, no cookie and no tracking across devices.
We still get all important site analytics - excluding return visitors since that would require tracking over time.  Real-time data. Search keywords. Bypass ad-blockers with own analytics server and 100% ownership data. Why are we even using Google Analytics?
Without cookies and fully GDPR compliant we skip the cookie-banner for a better user experience. Track users, page-views, bounce rate, exit rate, referral traffic, custom events.
No cookie banner, no consent form, no privacy policy.
Here's an overview....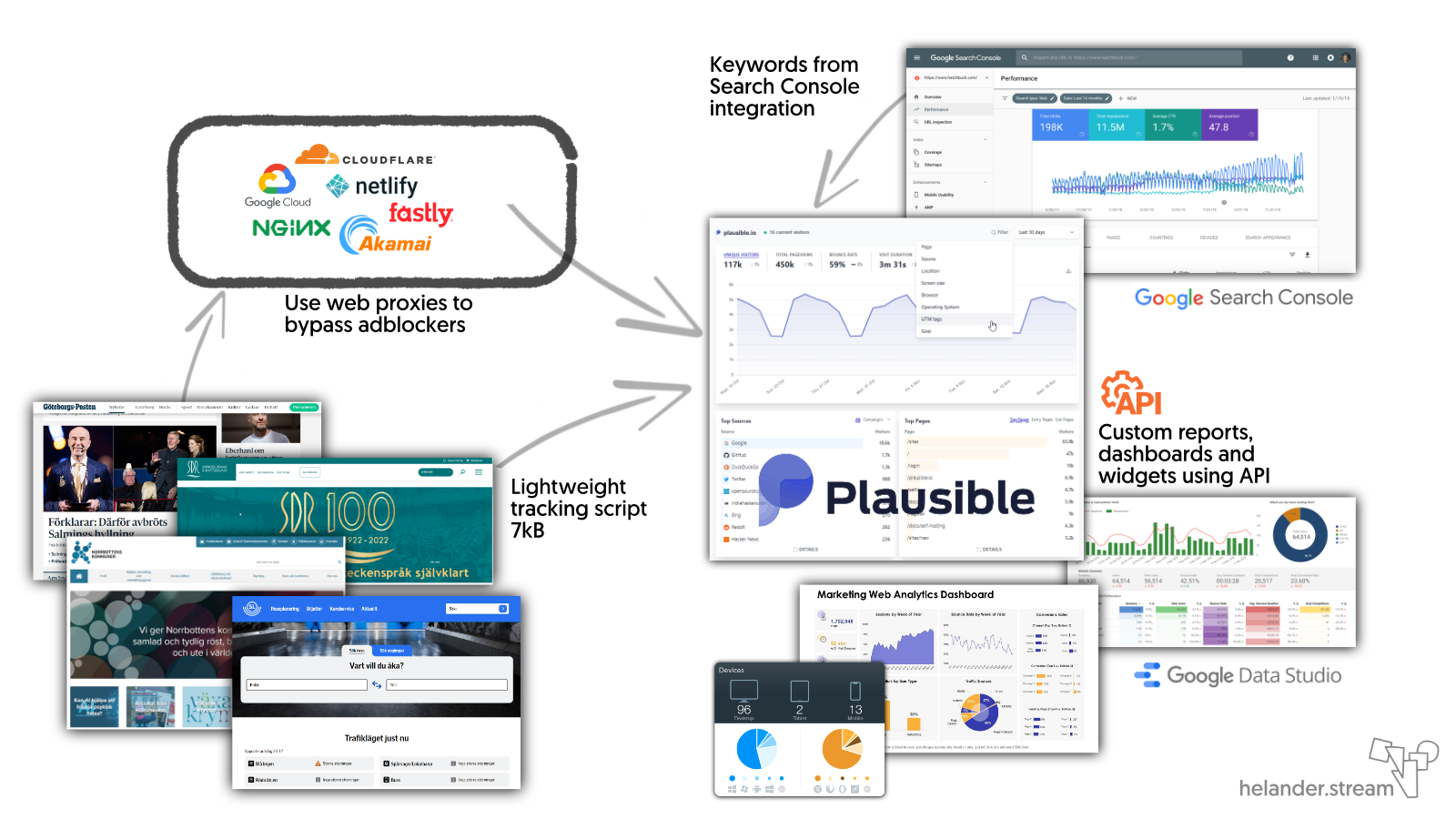 We get all the critical data - visitors, session time, device, GeoIP, bounce, entry & exit, goals and conversions, link tracking with UTM tags for social media, campaigns & newsletters. Search keywords are retrieved using the Google Search Console API.
By design Plausible can not track Personal information, this is different from platforms such as Matomo which has anonymization as configuration option. Fathom is option - they are closed-source and you can not self-host the platform.
Using a proxy such as Cloudflare, Fastly or nginx  the Plausible tracking script and API becomes part of regular site content on the same domain, this bypasses ad-blockers and provides high confidence data. This blog uses a proxy for the Plausible script - I challenge you to find it.
Google will kill the classic UA Universal Analytics at the end of 2023 and transition to GA4. Not only is GA4 ridiculously complex, hard to understand and clearly aimed at enterprises and e-commerce. Importantly it will not import legacy data from an existing Universal Analytics account.
It gets worse... Chrome will block 3rd party cookies from mid-2023 – that's 65% of all web browsers. Apple's Safari has 19% of users and with iOS 14 Apple clearly indicated that user privacy is important. Adding Firefox 3% that is 87% of all browsers who will kill 3rd party cookies.
We can also skip Facebook and TikTok tracking scripts. As closed platforms they keep track of their users internally - re-targeting using internal sources such as Video Views and using UTM tags for website traffic solves this. I found a great UTM builder for TikTok and here are Meta's internal sources for re-targeting....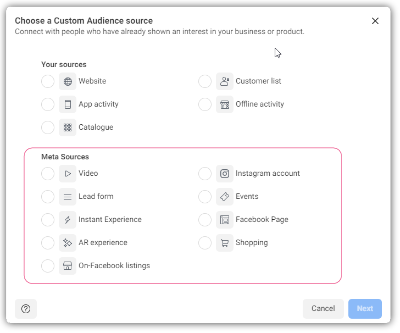 Plausible provides API access to visitor data so we can link our data to Google Data Studio and build widgets and real-time dashboards.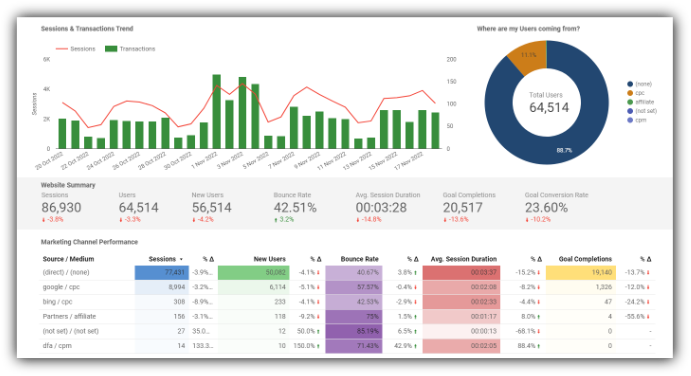 A visitor is identified as a single visit for a 24 hrs session. The only metric we loose by tracking anonymous aggregated data is Returning visitors. For that to work we have to identify the user and track them over time and across devices.
With Plausible you can make your web analytics public, here are some public live dashboards to explore features and capabilities
I'm excited about Plausible and happy to help you set up analytics on your website, create your own cloud-based analytics server with 100% data ownership, integrate Search console, set up proxies and on-board your team using Zoom.  Contact me on this (spam-protected) email: magnus-75gh5534@helander.stream
---
Cover Photo by Liza Summer